This post was published 13 years, 8 months ago. Some material it contains may no longer be applicable.
Schnellste, wirkungsvollste und lustigste Internet-meme ever.
Was ist passiert? Folgendes Bild ist im Internet aufgetaucht. Ein Wahlplakat unserer Kanzlerin, beschrieben von "irgendjemandem":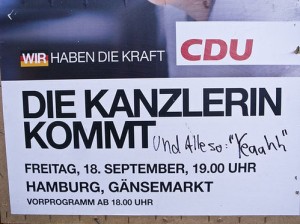 Den Spruch fanden einige derart lustig, das er sich wie ein Lauffeuer verbreitet hat. Jetzt gerade findet diese Veranstaltung statt, und aufgrund dieses Spruches hat sich ein Flashmob mit verdammt vielen Leute gebildet, welcher JEDEN Spruch der Kanzerlin mit einem "YEAH!" kommentiert.
Ich frag mich wirklich, was grad im Kopf der Kanzlerin vorgeht.
Entstanden ist das wohl beim Spreeblick-Johnny, hier gibts mehr Info dazu.
Livestream hier.
Don't worry! We are from the internetz!!